Let's build bridges between Australia and France
Caroline Sanders
French translator • South Australia
I'm French, a professional translator, and I especially appreciate working with people for people.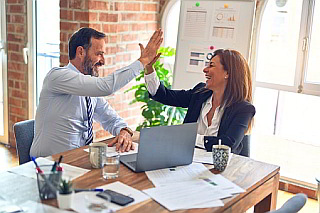 Yes, I do work with words, or rather messages. The goal of the translated messages, however, is to create a link between people.
My translations help you:
make available, in French for your French audience,

content that you want to share

;
make available, in French for your French contacts,

legal documents needed to advance a project or an action

.
I translate and copyedit for professionals and small businesses who positively impact the world we live in.
I help…
people and businesses

who want to connect with their French audience – who want to share their message, their story, their website content, their marketing collateral – I translate or copyedit them;

legal practitioners

get the French translations they need, professionally done, certified if needed, within the time frame we have agreed on;

individuals

who need certified translations in French, or language coaching in French.
To find out how I can help with your French translations,
Living with my Australian husband, I quickly realised how easy it was to misunderstand each other. Even though the message seemed simple at first glance. This served me well when I started working as a translator, and encouraged me to check and research everything that wasn't absolutely clear.
Building bridges
With this in mind, I like to contribute in building virtual bridges between Australia and France, through my translations – helping Australian small businesses and professionals better connect with their French audience.
I'm happy to customise my services to meet your goals. There is always a reason behind a translation. Let's talk about it.
I'm interested in positively impacting the world we live in through English-to-French translations, French copyediting and language coaching
Including in the following domains:
• lifestyle • tourism • sustainability • communication • entrepreneurship • eLearning • holistic well-being • transpersonal development • women in business • organic cosmetics • aromatherapy • yoga (and kundalini yoga) • and other areas supporting women, and everyone really, to find their way to contribute to a more respectful and environmentally friendly world.
I'm open to consider other fields that fall under the same umbrella of positively impacting the world we live in.
Translation of Australian legal documents
​When I arrived in Australia, the contrast between the Australian and the French legal systems intrigued me. My curiosity led me to study English-to-French legal translation to better understand the differences in concepts and terminology.
Education and Qualifications
NAATI (Australian) certification (no

CPN1NP56R

) as a professional English-to-French translator (since 2009)
Business Law for Translators and French civil procedure , in French, with Leglosa
Copywriting for your business and your clients (2022)
Maitrise (4-year degree) in Applied Languages (English and German) from the Lyon III University in France
Caroline is a skilled, reliable and professional translator with an eye for detail and willing to go the extra mile for clients. Highly recommended!
Caroline has been providing English into French translation services to us for over 5 years. In that time, she has shown an unparalleled commitment to her work and she has been incredibly easy to work with. I would have no hesitation in recommending Caroline to others who are in need of a world-class translation service.
I enjoy
spending time with my family, practising yoga, walking among trees or on the beach, reading (from novels to books on translation, entrepreneurship, sustainability, transpersonal development), listening to podcasts, exploring new interests, keeping abreast with what is happening in France – and simply appreciating life.
When I travel to France, I take in the environment, the language, the atmosphere, and I reconnect with my roots.
I visit friends, family and places I cherish, of course. I also check recent magazines, new shops, raid my favourite bookshops. Savour a French croissant with a coffee, make the most of the French food I love. Open my eyes, my ears and my nose. And just walk in the streets taking in my home country – and the light in the South of France.
Caroline is very professional and continuously seeks to update her skills and knowledge as a translator.
Contact me for • English-to-French translations • French copy-editing services