Legal documents are everywhere, however, their translation requires a specific set of skills to ensure that the result is fit for purpose.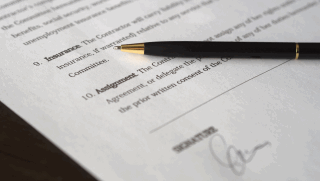 As a qualified legal translator, I translate contracts and business law documents, as well as some family law documents, from English into French.
The qualifications that allow me to translate these types of documents are listed on the About page.
And now, let's talk about your needs.
Some examples of legal documents I translate into French:
Contracts

Confidentiality Letters

General Terms and Conditions

User Agreements

Powers of Attorney

Last Wills and Testaments

Affidavits

Articles of Association or Constitution

Minutes, General Meeting Reports

Parenting Orders, Divorce Orders

Other Business Law or Family Law documents

Some Court documents
Confidentiality
As a member of AUSIT, I am bound by the principle of confidentiality, regardless of whether I undertake the translation or not, so you can rest assured that your documents will remain confidential.
A few questions worth considering before sending documents for translation
When you need legal translations, it's a good idea to think about the following issues:
Does the translation need to be

NAATI-certified?

 
No problem, I have NAATI certification. Just mention it when you send me your document to be translated. You can also have a look at the page on Certified Translations for more information.
Who is the

intended audience

for the translation?
Is it for the French administration? A court of law? Potential partners? Clients? Website users?
What is the

timeframe

for the translation?
Legal translations tend to be urgent, but at the same time, they aren't the type of translation you want to rush. Let me know what your needs are and I'll check my schedule to see how I can accommodate them. 
Your work was excellent, fast, and you are a pleasure to work with.
Why entrust me with your translations?
As a French native living in Australia, I have first-hand experience of the two different legal systems. This compelled me to study English-to-French legal translation. I have since become a qualified English-to-French legal translator and I continue to learn, recently focusing on the translation of business law documents.
To receive a quote, please send me the text to be translated with any information that you deem important. I will send you a quote and clear terms and conditions so that everyone knows where they stand. And if you have any questions, please ask away.
Do you have legal or marketing documents that need to be translated into French?
Clicking on the button will open a new email.