Marketing and editorial translations from English to French
Let's build bridges between Australia and France
Why?
Contact me for a quote
Marketing and editorial translation services from English to French
to help you spread your message in French, and communicate with your French audience.
I am a French professional translator, and I live in South-Australia.
Why translate your content into French?
You value your message, your products, your services and you want to reach a French audience. 
Providing a French translation of your message lowers the understanding threshold, thus avoiding all kinds of unexpected and costly misunderstandings. You make it easier for your French audience to understand your message and to act on it.
Because you want
your French audience to understand your message;

to get more exposure, more opportunities;
to open up to new markets;

to interact in French with your existing French audience, allowing them to read your content in their native language;

to make your products, services, or message, more accessible and desirable to a French audience.
Because it's important to you!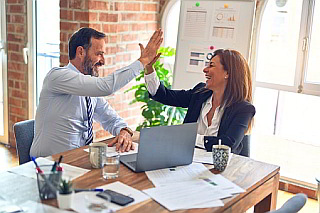 « If you talk to a man in a language he understands, that goes to his head.
If you talk to him in his language, that goes to his heart. »
You want to talk to the heart of your audience.
Do you want to translate your content into French?
How do you get translations fit for purpose?
How do you get translations that are adapted to what you want to achieve, and to your French audience?
I focus on:
your message and your area of business, 
who is going to read it in French,
the fluidity of the French translation.
The better I know and understand your product, your service, your message, the better I can translate your content, your message, in French.
I look at how this topic is dealt with in French, so that your French audience feels more at home with your message. This is called researching terminology in context. 
It also helps to know:
how

the translation is going to be used (a printed document, published on your website, on social media, for information, etc.)
and by whom (your clients, your followers on a specific media, the general public, or a segment, professionals, etc.)
My set of tools: qualifications, experience, quality assurance processes, commitment towards my clients and their French audience, and a love for the French language.
For ongoing collaborations, I usually build a glossary specific to your business to ensure consistency from one translation to the next. I can also correct proofs before printing; or proofread before publication the text your web designer has prepared.
You'll find my qualifications and background on the About page. And if you have any questions, please send me an email, I'll be happy to answer your queries.
Contact me to discuss your French translations
What content would you like to have in French?
Your Website (including your About page)

Your LinkedIn profile

Brochures

Presentations

Case Studies

White Papers

Newsletters

Blog posts

Articles

Press releases

Terms of Use

Privacy Policy

Policy Statements

…
Time frame and Quote
When do you need the translation of your marketing content to French? Do you need it for a specific date or event? Let me know. Otherwise, what would be your ideal time frame?
I always send a written quote before starting a translation. You just need to email me the documents to translate with any information that you deem important.
It's always good to see our translation partners putting in as much effort into the research for a project as you do!
Caroline is a reliable and competent translator. She always delivers the translation in due time in a professional manner. She is thorough and always highlights any mistakes that could be present.
Translation for publication vs translation for information
Translation for publication: this is what you publish (whatever the medium) and what you communicate about. It can be for your readership, your followers, your clients or even official contacts. The translation of marketing content to French is a translation for publication.
What I call translation for information is useful when the focus is on the content, and the form is not so important (it won't be as polished as a translation for publication). For example, you want to send some information to a contact in France, and you feel that it will be better understood if it's translated into French, it may be a draft, or a document under discussion. Or you have received a document in French, and you would like to read it in English.
Translations for information and French copyediting
I offer translation for information services from English to French, and from French to English. However, I offer translation for publication services only from English to French.
If you already write in French and are interested in having your text copyedited, you will find more information on this page.
Legal translations into French
If you also need to have legal documents translated into French, let me know: I am a qualified legal translator. More information on the Legal translations page.
Contact me for • English-to-French translations • French copy-editing services